Prime Minister Narendra Modi is celebrating his 72nd birthday today on 17 September. Ever since Narendra Modi assumed the office of the Prime Minister of India, he has left no stone unturned to take India on the path of development and make Indians realize their true potential. Make India a developed country. Known for taking and implementing bold decisions without fear, Modi has not only earned praise from across the world for his strong leadership but has also made India the cornerstone of an emerging world order.
1. Demonetisation & UPI

It is a matter of November 8, 2016, when the country saw a big shock! PM Modi in his address to the nation at 8 pm announced a ban on Rs 500 and Rs 1000 notes and introduced new Rs 500 and Rs 2000 notes. This decision has been implemented with immediate effect.The decision of demonetisation has led to a huge increase in the use of digital transactions. Digital payments have increased since then and in the last two years of the pandemic, the rapid adoption of UPI for daily transactions has hit a new milestone. PM Modi launched the BHIM UPI (Bharat Interface for Money – Unified Payments Interface) app on December 31, 2016 and urged people to make digital payments a habit to transform the country into a cashless economy. Since then UPI has become synonymous with digital payments, which has seen rapid growth.
PM Modi in his Independence Day speech this year had said that India is at the forefront of real-time digital payments in the world, accounting for nearly 40% of transactions.
2. Jan Dhan & JAM Trinity

Pradhan Mantri Jan Dhan Yojana (PMJDY) was announced by Prime Minister Modi on 1 August 2014, and the scheme was launched on 28 August the same year. The scheme is touted as the world's largest financial inclusion initiative. The scheme has ensured access to various basic financial services like savings bank account, insurance, pension and others for the poor deprived of such basic facilities since 70 years. The scheme's deep penetration along with effective use of technology helped the government to reach out to the poor directly, cutting out the middlemen. RuPay Debit Card is provided to all Jan Dhan account holders. In addition, they are also entitled to an accident insurance cover of Rs 2 lakh. According to the official website of PMJDY, there are 46.6 crore beneficiaries with a balance of Rs 172,617.47 crore in their accounts.
PM Modi often talks about Jam Trinity. JAM stands for Jan Dhan, Aadhar and Mobile. It has been instrumental in the implementation and success of the welfare schemes of the government. The government uses these three elements to transfer cash-based social assistance directly to the poor. This has also helped the government to check leakages in the system. All Jan Dhan accounts are eligible for direct bank transfer and other schemes.
JAM Trinity invites applause from various sectors for delivering the benefits of the schemes to the needy in an efficient and time bound manner.
For such communication, technically rich for splendor, Jaime Lavanity enriches happiness. Success of Yash Yojana and some famous like Kisan Samman Dhan; Sukanya Samriddhi Yojana; Pragya Scheme; currency scheme; Get happiness updated with Better India Scheme.
3. Make in India

The Make in India initiative was launched by PM Modi in 2014 to promote local manufacturing and reduce dependence on other countries. His dream of turning India into a manufacturing hub has not only led to economic activity and inflow of foreign funds into the country, but has also led to a significant growth in startups by creating a strong ecosystem to encourage entrepreneurship and create jobs. .
Make in India was launched at a time when the country's growth rate was the lowest in a decade. Everyone from MNCs to startups benefited from this initiative as it seeks to facilitate investment and spur innovation.
Happy Birthday PM Narendra Modi
The Make in India initiative improved the economic situation and turned the disruption caused by COVID-19 into an opportunity for growth. Many announcements by the government like Atmanirbhar Package, Production Linked Incentive (PLI) Scheme, Pradhan Mantri Mudra Yojana (PMMY), Startup India and many more brought transformative changes in the society.
4. Goods and Service Tax (GST)

Goods and Services Tax (GST) was first conceptualised by the Atal Bihari Vajpayee government. But it took more than a decade to implement the path-breaking measure. GST, touted to be India's biggest tax reform since Independence, was finally rolled out on the midnight of June 30 in 2017.
GST changed the way of taxation on goods and services right from the manufacturer to the consumer. GST not only improved the ease of doing business but also fulfilled the vision of 'One Nation, One Tax'.
5. Article 370

After the BJP's thumping victory in the 2019 Lok Sabha elections, the party pursued and finally realised its goal of the abrogation of Article 370 and Article 35-A. It was August 5, 2019, when the Modi government revoked Jammu & Kashmir's special status by abrogating Articles 370 and Article 35-A. The saffron party termed it total integration and the decision was welcomed by 135 crore Indians.
Many opposition parties' leaders even supported the move while a few including those from Congress predicted bloodshed. But they have been proved wrong in the last three years.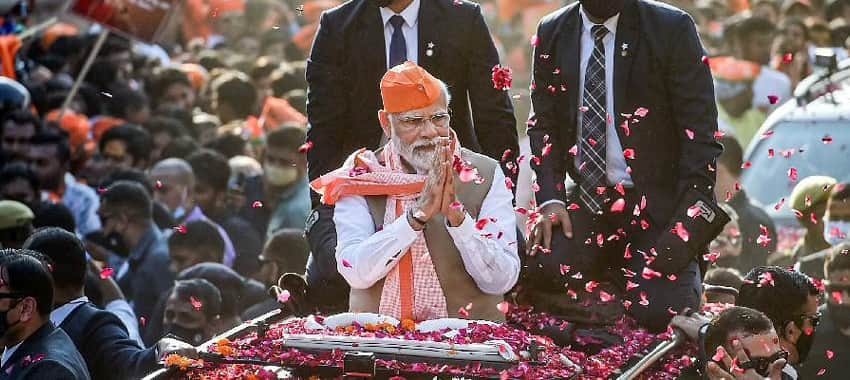 People of Jammu and Kashmir and Ladakh (now 2 UTs) who were deprived of their rights before the abrogation of Articles 370 and Article 35-A are now witnessing an all-around development. The abrogation of Article 370 and Article 35-A commenced a new era of democracy in Jammu and Kashmir. The decision allowed the government to fully implement its policies and deepen public outreach.